About Us

contact us: graffitigrrrl@hotmail.com
Calling all grrl revolutionaries, queer warriors, raging artists, feminist fighters, underground rebels, attuned activists....


feminist<>queer<>anti-capitalist<>trans-inclusive
Girl on gIRL Productions is a revolutionary feminist and queer publishing stunt dedicated to producing handbooks, zines, art, and other media with information about political tactics. One of our main is hell-raising in an everyday manner by challenging social norms. By disseminating simple and shocking methods, Girl on gIRL Productions hopes to establish the artificiality of the public/private division as a paradigm that only enforces hierarchy. Oppressed groups are relegated to the private while the powerful control the system which enforces this hierarchy. Girl on gIRL Productions brings activism to places of ambiguity -- restrooms, libraries, "public" streets, advertising, school, women's bodies -- to challenge the control of the "public" domain and illustrate the artificiality of the notion of public equals access for all, and to breakdown the system of hierarchy and do it with a little bit of humor :) Girl on gIRL Productions recognizes the primary importance of art in revolution. Art is the ultimate cultural expression which can be used to give the oppressed a voice.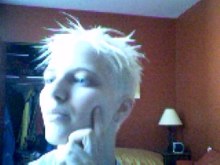 Kim is founder
of Girl on gIRL Productions. She founded the production project for various political reasons and to ensure the maintence of a vibrant underground feminist/queer medi in her community.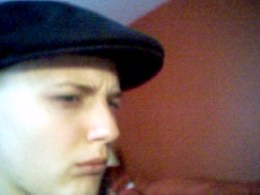 Smitty is a hardcore bathroom activist. look out for her distinctive activist graffiti art!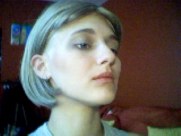 Doreen enjoys modern art, ice cream, and parks. she works on promoting the project and looking for new distro methods. she is glad to be part of the girl on girl team!

Glamor Grrrl is the creative consultant for girl on girl. she also had a feminist art video career. look for her work to be carried in the future.
##_)(&)
rebel grrrl rouser is a feminist graffiti artist working to reclaim out lost space.